Photography by Kiku Donnelly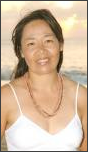 I feel so lucky to be able to say "I love my job" because, it brings out the passion in me by doing what I love most, "Photography"! I began my career in 1997 and first started by doing wedding photography. I was hooked instantly, and knew I had found my life's work. I learned my craft by studying the work of other great photographers before starting my own studio in 2006.
I love weddings, community events, and family gatherings. The favorite part of my job is being able to meet new clients and understanding how best to capture them on camera. I now specialize in fine portraits, weddings, high school senior portraits, family albums, private parties, school proms, banquets and maternity portraits. One of my most recent projects included traveling to a neighboring island for a wedding event which took place in a beautiful garden on Oahu.
I invest a lot of time, heart, and money into what I do. I stay current in the business studying the work of some of the top digital photographers. Especially with digital photography you constantly need to improve your understanding of technology and of course upgrade camera equipment to serve the growing needs of your clients.
I am based in Molokai, but have done events on the mainland and regularly travel to the other Hawaiian islands to shoot weddings and other special events.
Planning a destination wedding, need a family album or senior portrait? Just ask!
Contact Kiku Toll Free at 1-800-MOLOKAI or info@molokaiweddings.com